Biography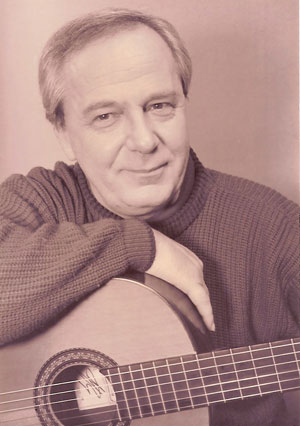 Teaching Career
Clark University, Worcester Massachusetts
Marywood College, Scranton Pennsylvania
SUNY at Binghamton
SUNY Oneonta
In the above organizations, I taught guitar technique and performance, composition and theory. While teaching at Clark, I incorporated early music workshops into my program.
Currently, I have a private practice and also conduct workshops from time to time in Europe.
Concert Highlights
Carnegie Hall
Royal Festival Hall - London
Austria
Moscow
Czech Republic
Belarus
Performances include classical ensembles, jazz ensembles and solo guitar
Compositional Output
My compositions are diverse, both musically and instrumentally. They include "Just For Friends" for flute and guitar and "Suite Ibiza" for solo guitar, both of which were published by Columbia Music. Other works include guitar duos, quartets and chamber music.
Editions Daminus of Germany published one of my works, entitled "When the Birds Say Goodbye to the Day". My arrangement of "Deep River" was published as part of the IV International Competition for best arrangement of a folk song, at Belarus, Gomel (20050).
Other compositions were recently published in Classical Guitar (April 2006) and Soundboard Vol. XXX, #4 (2004-5) and Vol. XXXII # 1&2 (2006).
I actively compose music for film and theatre organizations in New York City. In October 2004, Televideo International presented my second guitar recital at Carnegie's Weill Recital Hall.
For reviews and interviews concerning my compositions please see Classical Guitar Magazine and Soundboard Journal.
Jim has written compositions for
Gabriel Guillen
Norbert Dams
Jan de Kloe
Vladislav Bláha
Eleftheria Kotzia
Srdjan Bulat
International festivals - adjudicator and other participation
GUITAR FESTIVAL - RUST, AUSTRIA

Duties: Adjudicator 2006; 2007; 2008

World Premier of my composition "Six Moods for Classical Guitar and Jazz Quartet" was performed in 2007.

GUITAR FESTIVAL - BRNO, CZECH REPUBLIC

Duties: Adjudicator, performer and teacher (guitar master classes) 2007; 2008

GUITAR FESTIVAL – MINSK AND GOMEL, BELARUS 2008
Duties: Adjudicator for solo and ensemble competition. Performed in Minsk and Gomel.
Other Festivals as Attendee
GUITAR FOUNDATION OF AMERICA
2003 - Mexico
2004 - Montreal
2005 - Oberlin
2006 - Columbus, Georgia
Publications
Columbia Music
| | |
| --- | --- |
| Suite Ibiza | Solo Guitar |
| Just for Friends | Flute and Guitar |
Edition Daminus
Southern Echoes
Bass & Guitar
Northern Echoes
Marimba & Guitar
Goodbye Geordie
Bass, Oboe, Flute & Guitar
When the Birds Say Goodbye to the Day
Solo Guitar
Prelude
Oboe & Guitar
The Trees They Do Grow High
Two Guitars
Ribbons of Love
Four Guitars
Two Jazzy Moods
Solo Guitar
Three Memories
Solo Guitar
In the Homage to John Duarte, the A is natural in measure 48 and in "A Lancashire Lass" at measure 20, the second beat should be F# not G
Classical Guitar Magazine
| | |
| --- | --- |
| Deep River | April 2006 |
| The Merry Golden Tree | April 2006 |
Soundboard Journal GFA
Afterthoughts
All 2004-2005
Homage John Duarte
A Lancashire Lass
GFA Soundboard Journal Volume XXXVII. No.3
2011
"Style and Influences in the Early Works of John Duarte"
International Music Diffusion, Paris
Eleftheria Kotzia's new method LE CAHIER DE MA GUITARE VOL 2
Feilles D'Automne
Study for the 7th Position
Reviews of these compositions can be found in Classical Guitar Magazine (UK):
| | |
| --- | --- |
| Southern Echoes | November 2007 |
| Prelude | December 2007 |
| Goodbye Geordie | January 2008 |
| The Trees They Do Grow High | February 2008 |
| Northern Echoes | February 2008 |
| When the Birds Say Goodbye to the Day | March 2008 |
| Cross String Study No. 1 | December 2009 |
Review of Silver Linings in Classical Guitar Magazine
This amiable and relaxing recording suitably demonstrates the musical skills of the highly talented New York guitarist/composer Jim Skinger. Writing in a mostly classical/jazz fusion idiom he has produced a very attractive package with this programme of entirely his own compositions; none of which fall below the category of 'charming', indeed this is a very alluring and rewarding CD, one which compels repeated playings.
To add to the appeal Skinger is joined on several tracks by various other musicians playing oboe, flute, bass, keyboard, sax and percussion.
Altogether a very nicely planned programme, extremely well performed and recorded.
Steve Marsh, Classical Guitar, December 2009
Review of Visions in Classical Guitar Magazine
Hailing from New York, the talented guitarist/composer Jim Skinger here presents a disc of skillful and intelligent compositions and arrangements. This is a disc to play late at night, soaking in the lovely melodies and harmonies he creates in these jazz/blues/classical works.
He is joined on various tracks by a talented group of four other musicians performing on oboe, flute, bass, and marimba and each one adds greatly to the quality of the music.
The programme is brought to a close in folky style with Skinger's delightful take on the English folk ballad Among the leaves So Green O and The Water is Wide based upon the Scottish tune Waly, Waly.
I had the pleasure of reviewing his previous album Silver Linings when that one was released and I found this present one just as delightful. A very well thought out programme. Well performed from all concerned and with a nicely balanced recorded sound.
Steve Marsh, Classical Guitar, May 2014
CDs
Just for Friends
Many Roads
Silver Linings
Visions